SEALING TOUCH, JR.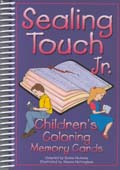 SEALING TOUCH, JR. is a doctrinal memorizing book for children ages 0 to 12 years. The studies are selected from SEALING TOUCH, and cover most basic doctrines: Salvation, Baptism, the Holy Spirit, Christian Standards, Heaven, etc. There is a poem, four to five verses, and an inspirational paragraph on each study, with a picture to color for each verse and paragraph.

The books are printed on 5- x 8-inch card stock, with a full color cover, and a coil binding. Each study has first-letter helps for easy learning for children who can read. The books are also available on a hard copy of miniature studies with the seven pages of each lesson shrunken to fit on one 8 1/2-  x 11-inch page for convenience in teaching large groups of children. Cost $11.95 each.

As in the past, our present world crisis demands the help of the young to hasten the Lord's work. God's directive states clearly: "These words, which I command thee this day, shall be in thine heart: and thou shalt teach them diligently unto thy children."  

The Words in these memory books contain power to touch the smallest child with salvation, strength against sin and a relationship with Jesus. As these attributes seal the heart with love for the Lord, children of all ages unite with God's people in proclaiming to the world the truths for today.

In your home there may be a Moses who goes to the palace, a Joseph who becomes vice-president, or a Paul who preaches to the world. Bible memorization prepares for the work by sealing the heart to Jesus.

Mariko Kinjo has written music for all verses and quotations of the SEALING TOUCH, JR. studies. Mariko plays the accompaniment on a keyboard. She, her husband, and their two girls sing the songs in solo voices, in duets, and in a family group. It is easy for the memorizer to sing along with them to learn the verses.

The music is produced on four CDs with seven studies on each CD. They sell for $7.50 each. All four cost $30.00.

Reini Roberson has created an entertaining game for learning and review of the SEALING TOUCH, JR. studies. The studies are divided into four groups with seven lessons in each group. Each group of lessons is produced in a different color: blue, green, yellow, and pink. The lines of the poem and the pictures are used for clues to the verse that fits in the blank. All parts of the game are laminated to make durable for much use. . Directions are given for playing the game; however, children can easily create their own games using the game parts.

Each envelope of seven studies sells for $5.00, which makes the game cost $20.00.