SEALING PROMISES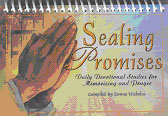 SEALING PROMISES contains 30 studies that cover most basic prayer needs: addictions, backsliding, grief, guidance, healing, marriage, etc. There are 8 to 14 verses in each study, with headings to introduce each section of verses, and a matching inspirational paragraph. The books are printed on 4- x 6-inch card stock, with a full color cover, and a coil binding. Each study has first-letter helps for easy learning. Cost $9.95

The SEALING PROMISES memory studies have been written to inspire God's people to claim the promises of His Word for a victorious prayer life. There is a verse of victory for every attack of the enemy. The Captain of our salvation points us to the special verse for the specific need. We claim the promise and go forward in faith to defeat Satan. "God has said it! God will perform His Word!"

In John 15:7, Jesus says, "If ye abide in Me, and My Words abide in you, ye shall ask what ye will and it shall be done unto you." Taking these Words of our Lord seriously transforms our prayer life from a lifeless form to a conversation with our all-powerful Creator. Always bring before the Father His promise for explicit requests--salvation, sickness, sin problems and for Holy Spirit power. God does not lie. His Word is as much His voice speaking to us as if we could hear Him.

Memorization of these verses makes it possible to walk through the day with promises continually ascending before God's throne. Jesus takes our prayers and presents them to the Father with upraised hands, "I have graven them upon the palms of My hands." God loves to hear, and responds to the pleadings of His Son. Gracious answers are received!