SWEET MADNESS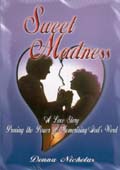 If you've ever been in love, then you know what it's like to find the power and the passion of complete devotion to the one you love.
Of the early Christians, it was said, that they seem to have a "sweet madness" for their Lord Jesus Christ. That same "sweet madness" is the focus of this love story--the beautiful and honest account of one woman's fervent love for her husband and her later discovery of a love even more all-consuming: her own "sweet madness" for the same Jesus who enthralled those early Christians.
This is the captivating chronicle of a storybook romance and marriage that encountered daunting obstacles when the claims of God confronted a woman who, from early childhood, had dreamed of doing a great work for her Lord.
If despite all your faith and effort, you've ever been disappointed in love or in prayer, you'll identify with this author's journey. If you've ever known heartbreak or wondered why God seemed to ignore your strong cries for help, you'll identify with her own experience, which she shares here with refreshing candor and openness.
Life doesn't always turn out according to the script we would write for it. But the lesson of this book is that if we cling to God with stubborn faith in the promises of His Word and nourish an ever-growing love for Him, He will lead us through both life's bitter and its sweet to just the place He wants us to be.
In the author's case, her faith and love for her Lord led her to discover the amazing power of memorizing Scripture. In this, she found not only the strength she needed to weather her own life's storms, but that special place of ministry she had dreamed of all her life. Through the memorized Word, she found too what any of us can also learn--that when we seemingly have nothing left but God, we discover that He alone is enough.
The conflict that arose in her home proves the power of the Word to enable the believer to stand firm. May this story challenge you to hide God's Word in your heart--to store away its treasures till the flames of a "sweet madness" for Jesus consume you. Cost $9.95.