SEALING FAITH, JR.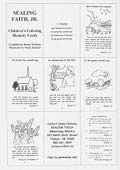 SEALING FAITH, JR. is a memorizing book available in miniature studies on hard copy for children ages 0 to 12 years. There are 30 studies, with verses and paragraphs selected from SEALING FAITH. The studies cover prominent stories: creation, the flood, Abraham and Isaac, Moses, Joshua, Elijah, etc.

There is a poem, four to five verses, and an inspirational paragraph on each study, with a picture to color for each verse and paragraph. The book is printed on 8 ½- x 11-inch paper, with the seven pages of each lesson shrunken to fit on one page. Each study has first-letter helps for easy learning for children who can read. Cost $11.95.

The stories in these memory books build strong faith in even the very young. Children of all ages are inspired by the faithfulness of Joseph in Pharaoh's palace in Egypt, "How can I do this great wickedness and sin against God? (Genesis 39:9)

The young identify themselves with David as he met Goliath with the words: "Thou comest to me with a sword, and with a spear, and with a shield: but I come to thee in the name of the Lord of hosts, the God of the armies of Israel, whom thou hast defied (1 Samuel 17:45).

A grand and glorious purpose fills the hearts of youth as they meditate on the words to Esther: "Who knoweth whether thou art come to the kingdom for such a time as this?" (Esther 4:14)

The lessons in these memory books give to the young the training needed to make them an army of workers who quickly take the message of a crucified, risen, and soon-coming Saviour to the whole world!