SEALING FAITH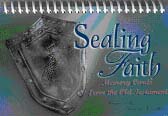 SEALING FAITH is a memorizing book with 30 studies from the Old Testament. The studies cover prominent stories: creation, the flood, Joseph, Moses, Joshua, David, etc. There are from 10 to 16 verses in each study and a matching inspirational paragraph. The books are printed on 4- x 6-inch card stock, with a full color cover, and a coil binding. Each study has first-letter helps for easy learning. Cost $9.95
These memory books build the kind of faith that moves mountains--a faith that comes from the Word of God. In a world falling apart, we see selfish, ease-loving, panic-stricken people who fear tall giants and inaccessible walls clamoring for retreat. God calls for Calebs who will press to the front. Leaders who with courageous words will make a strong report in favor of immediate action. Men and women who will not fear the highest pinnacle, but will cry with Caleb, "Give me this mountain!"
Only extraordinary faith united with extraordinary prayer brings the kind of power needed to finish the work. These memory cards contain God's own Words to produce both.
Love floods our souls as we see our Heavenly Father offering Jesus in Genesis 22: "And Abraham raised his hand to slay his son." Our hearts burn in worship for the Saviour, who on Calvary made Judah's plea: "How can I go back to my father and not take him with me?" We marvel at the Saviour's sacrifice in the words spoken by Moses in the idolatry at Sinai, "If Thou wilt, forgive their sin, and if not, blot me, I pray Thee, out of Thy book."
Because of the power released from the Word and made active in our lives, we go forth in faith and love with the prayer of Caleb on our lips: "Give me this mountain."
"And the mountain shall remove, and nothing shall be impossible unto you."