MY SEALING TOUCH Memorizing Prayer Journal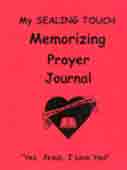 This prayer journal has been created to motivate all ages to "Hide the Word in their hearts," that they might gain a closer walk with the Lord. The converting, cleansing power of the Word transforms all who seriously engraft it in their minds and on their hearts.
The first fourteen pages of the journal present the benefits of memorizing. This information is vital to make known how very valuable the memorized Word is to cleanse sin, build faith and prayer, convey the Holy Spirit, implant truth, convey witnessing power, etc.
The next section of the journal presents specific guidelines for memorizing. Also, ideas are given to make the Bible a powerful influence to develop a personal walk with the Lord by meditating on verses, by working on witnessing projects, and by writing prayers. There are specific lesson plans written for parents, for homeschoolers, for teachers, and for any person involved in work with young people.
The journal is printed on white copy paper, 5 ½ x 8 ½ inches. The book contains 14 pages of memorizing motivational material and 49 pages of memorizing guidelines, which includes lesson plans, project ideas, games, charts for record keeping, and instructions for choral readings. There are an additional 52 journaling pages for a sanctuary prayer: "Save me," "Sanctify me," "Send me." The material is in a 3-ring white binder and comes with an inserted red, blue, or gold cover. Cost $11.95
.